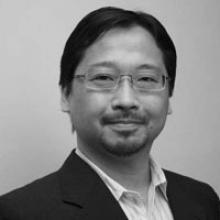 Co-Director
Ph.D., Princeton University
Dr. Tomoharu Nishino currently serves as the Co-Director of the International Relations Program at the University of Pennsylvania. He has previously taught in the International Relations Program from 2004 to 2008, and served as the Acting Associate Director of the program in 2007-2008. He also taught at the Penn-in-Seoul program during the summer of 2008.  Prior to arriving at Penn, he taught in the Government Department at the University of Texas at Austin from 2000 to 2004.  His area of expertise includes international political economy, the political economy of international security, political economy of energy, game theory, and quantitative data analysis.
Dr. Nishino is also an active consultant specializing in entrepreneurship education and venture incubation programs.  He is a partner with the firm Inspiration Labs which serves as both a incubator and strategy consultancy to early stage ventures, as well as advises educational institutions on the creation and implementation of entrepreneurship programs.  Previously, Dr. Nishino was a partner in the firm Twain Associates, which specialized in strategy and market entry, advising American Fortune 500 companies with extensive operations in the far east, and Japanese and Korean firms seeking to enter or expand in the North American market. 
A native of Japan, Dr. Nishino came to the United States to pursue his education.  He earned his B.A. in Government from Harvard University, and his M.A. and Ph.D. in politics from Princeton university.  A licensed commercial pilot and flight instructor, he spends his off-time teaching people to fly, and volunteering as a patient transport pilot for Angel Flight.
Courses Taught
Transnational Issues in Global Politics (with Frank Plantan): INTR-101-001
Research Methods/Practice in IR (with Anna Viden): INTR-350-001