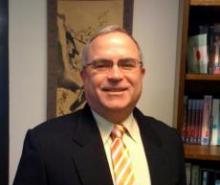 Lecturer Emeritus
Ph.D., University of Pennsylvania
Dr. Frank Plantan is currently lecutrer emeritus with the International Relations Program at the University of Pennsylvania, where he earned his Ph.D. in Higher Education and Masters in International Relations.  He took his bachelor's degree in Political Science from Illinois State University.  His portfolio includes eighteen years as the Director of the Penn-in-Seoul Study Abroad and Internship Program, and ten years as Executive Secretary of the International Consortium for Higher Education, Civic Responsibility and Democracy.  He has served as the General Raporteur for the Council of Europe on a seventeen-nation comparative research project, Universities as Sites of Citizenship and Civic Responsibility.  He is the National President of Sigma Iota Rho, the National Honor Society for International Studies with chapters on over one hundred and seventy campuses in the U.S. and abroad.   Dr. Plantan has been deeply involved in international education issues for many years and has served on the University of Pennsylvania's  Provost's Committee on International Education and Research, Provost's Advisory Committee on Study Abroad, the School of Arts and Sciences Study Abroad Committee, several site review committees and as Director of two summer abroad and internship programs in Korea and Belgium.  He served on the and on the Executive Committee of the Center for East Asian Studies at the University of Pennsylvania and is a Founding Member of Phi Beta Delta, International Education Honor Society at the University of Pennsylvania and is the faculty advisor to the Penn Chapter of the Society for International Development. 
Dr. Plantan has taught in Political Science, International Relations and the Graduate School of Education at the University of Pennsylvania.  His areas of interest and expertise include Northeast Asia with a special focus on the political, economic, and foreign relations of Korea; political risk analysis, counterintelligence, the history of international relations in American higher education, and the role of universities in promoting civic engagement and democratic education.   He teaches "Introduction to International Relations," "International Relations Theory and Practice," "Senior Seminar for Thesis Research," "Theory and Practice of Counterintelligence," and "Political Risk Analysis."
He also does occasional consulting and is a Partner in Gotham Orient Partners, an investment advisory firm.  Gotham Orient Partners organized "Hedge Korea 2012," sponsored by Korea's Financial Supervisory Commission and the Korean Capital Markets Institute.  As a member of the New York Hedge Fund Roundtable he has spoken on investing in Korea and facilitated investment and joint ventures in Korea.  He has most recently consulted with Kyung Hee University, Seoul Korea on the structure and development of their new Global Academy and NGO complex and the development of the World Civic Forum in conjunction with the United Nations Department of Economic and Social Affairs.  He served on the Planning Committee of the United Nations Department of Public Information—NGOs 61st Annual Conference.  He served as a consultant to Liberty Pacific Direct Investment and the Chongqing Municipality, People's Republic of China on the development of a new international school to serve Chongqing.  He also served as a consultant to the World Bank as a member of the Corporate Restructuring Team in Seoul during the Asian economic crisis in 1998 – 1999.   Early in his career he also worked for the Economic Planning Board of the Republic of Korea.  He has also advised the U.S. National Pork Board on their strategic vision.
Dr. Plantan is an established leader and innovator in international education, program development and cross-cultural exchanges with a proven track record in pioneering new educational, internship, and research programs in Europe and Asia creating and employing professional networks bridging diverse institutions and organizations.  He has piloted the only undergraduate course in counterintelligence in the country in conjunction with the U.S. Office of the National Counterintelligence Chief Executive. He has organized several national and international conferences including the "Symposium on Convergent Risks to Business and Government,"  "Conference on Ukraine," the "Community Education Conference," of the Graduate School of Education, and many smaller forums and symposia, including "Citizenship Through Education:  Trans-Atlantic and Global Perspectives."   He has regular public speaking engagements for diverse groups including the Emirates Center for Strategic Studies and Research in Abu Dhabi; The New York Hedge Fund Roundtable (twice); The 21st Century Korea, America, China Leaders Society, the New Jersey Education Association, Camden County School District, In-Service Development program; as Distinguished Alumni Speaker, Illinois State University; is a regular speaker for the Foreign Policy Association's Great Decisions Program, the Penn Club of Seoul, Korea; and the Center for East Asian Studies, University of Pennsylvania, and served as a keynote speakers on the state of international education at the US – China Education Summit in Beijing, in August, 2004; and an invited presentation for the National Academy of Educational Administration, People's Republic of China, "Developing and Managing International Education Programs," in November 2003.   His work in the Universities as Sites of Citizenship project in Mexico was featured in a recent book edited by Dr. Imtiaz Hussain, After NAFTA and Res Publicus of the Council of Europe.   He is the contributor to World Mark Encyclopedia on the Democratic Republic of Korea and the Republic of Korea.
Dr. Plantan retired from his administrative duties with the International Relations Program in December, 2020. He is presently a lecturer with the Program, teaching courses in counterintelligence and political risk assessment.
Selected Publications
Higher Education Today with Steve Goodman, JD. "Korean Studies and International Relations." 10/16/2012. For video, click here.
Courses Taught
Transnational Issues in Global Politics (with Tomoharu Nishino): INTR-101-001
Counterintelligence: INTR-290-015