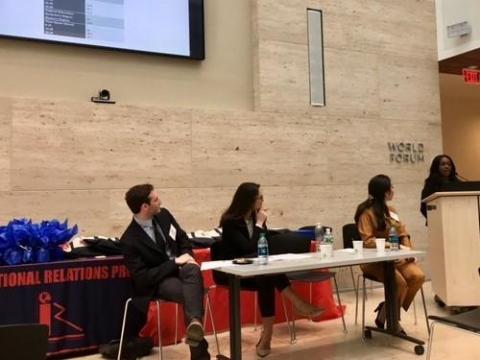 In conjunction with Sigma Iota Rho, Honor Society for International Studies, the International Relations Program convened its second annual Research Conference at the Perry World House this past Friday, April 7.
IR seniors were joined by students from SIR chapters -- Cal Berkeley, St. Joseph's University, and Duquesne University -- to present theses in several themed sessions, ranging from great power politics to international development.
Keynote speaker Dr. Dominic Tierney delivered a fascinating lecture on the Trump Doctrine and its implications for war and conflict. IR alumna Lisa Tretler, CEO of BusinessBoosters, held an interactive workshop on career development and leveraging personal, volunteer and professional skills after graduation.
The conference culminated with an awards ceremony recognizing students for a variety of distinctions. Congratulations seniors!