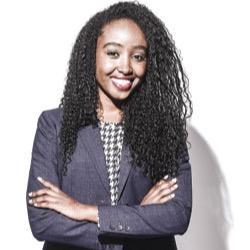 The IR Program heartily congratulates IR alumna, Muhga Eltigani (C'14), for being recognized in Forbes' "30 Under 30" list!
"One of this year's most impressive list members is Sudan-born Muhga Eltigani, a 24-year-old University of Pennsylvania graduate who decided to forego law school to work full-time with cofounder (and fellow Under 30 honoree) Sam Roberts on their startup NaturAll Club, a subscription e-commerce company selling hair products geared towards women of color or those with curlier hair types.
NaturAll Club was, until recently, fully bootstrapped; the two secured capital to grow towards the end of 2016. "It took an agonizing first year of trials and tribulations and a great many deals that did not go through," Eltigani said. "But we prospered and we're looking forward to this win."
For more, see the Forbes website by clicking here.