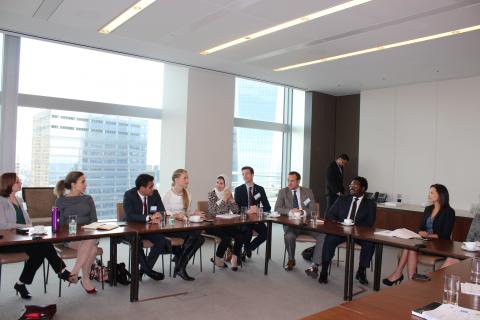 The Shafik Gabr Foundation is pleased to announce that the application for the 2018 Gabr Fellowship has officially launched.
The Gabr Fellowship, the flagship program of the East-West: The Art of Dialogue Initiative, promotes greater mutual understanding between the East and West by instigating dialogue and the exchange of ideas between young emerging leaders from Egypt and the United States.
Each year, the Gabr Fellowship consists of 20-24 Fellows, approximately 10 Americans and 10 Egyptians, with an equal distribution of men and women. Fellows represent various industries and work in the fields of the arts, science, law, media, and entrepreneurship – both business and social. Young emerging leaders between the ages of 24 and 35 years old with a passion for cross-cultural understanding are encouraged to apply.
The Fellowship provides an opportunity for highly qualified individuals to engage in a life-changing experience that will help them navigate the increasingly interconnected twenty-first century. The program is open to those from the United States, Egypt, the United Kingdom, France, Lebanon, and Jordan. The Fellows are all selected for their achievements, interest in understanding 'the other,' and courage to challenge the preconceived notions and stereotypes that continue to divide the two regions.
Once selected, Fellows will spend 10 days in Egypt and an additional 10 days in the United States. During the course of this intensive exchange, Fellows engage with high-level business leaders, members of the media, government officials, scientists, and academics. Throughout the exchange, Fellows continually meet and reflect with their peers, combining their individual visions into a group Action Project. The Action Project can be commercial or philanthropic, and allows Fellows to take their first steps to close the divide between the East and West, stem the erosion of public understanding, and create sustainable foundations for ongoing engagement.
The 2018 program will take place between August 31st and September 9th in Egypt, and between September 30th and October 7th in the United States. Additional information and application instructions can be found here.