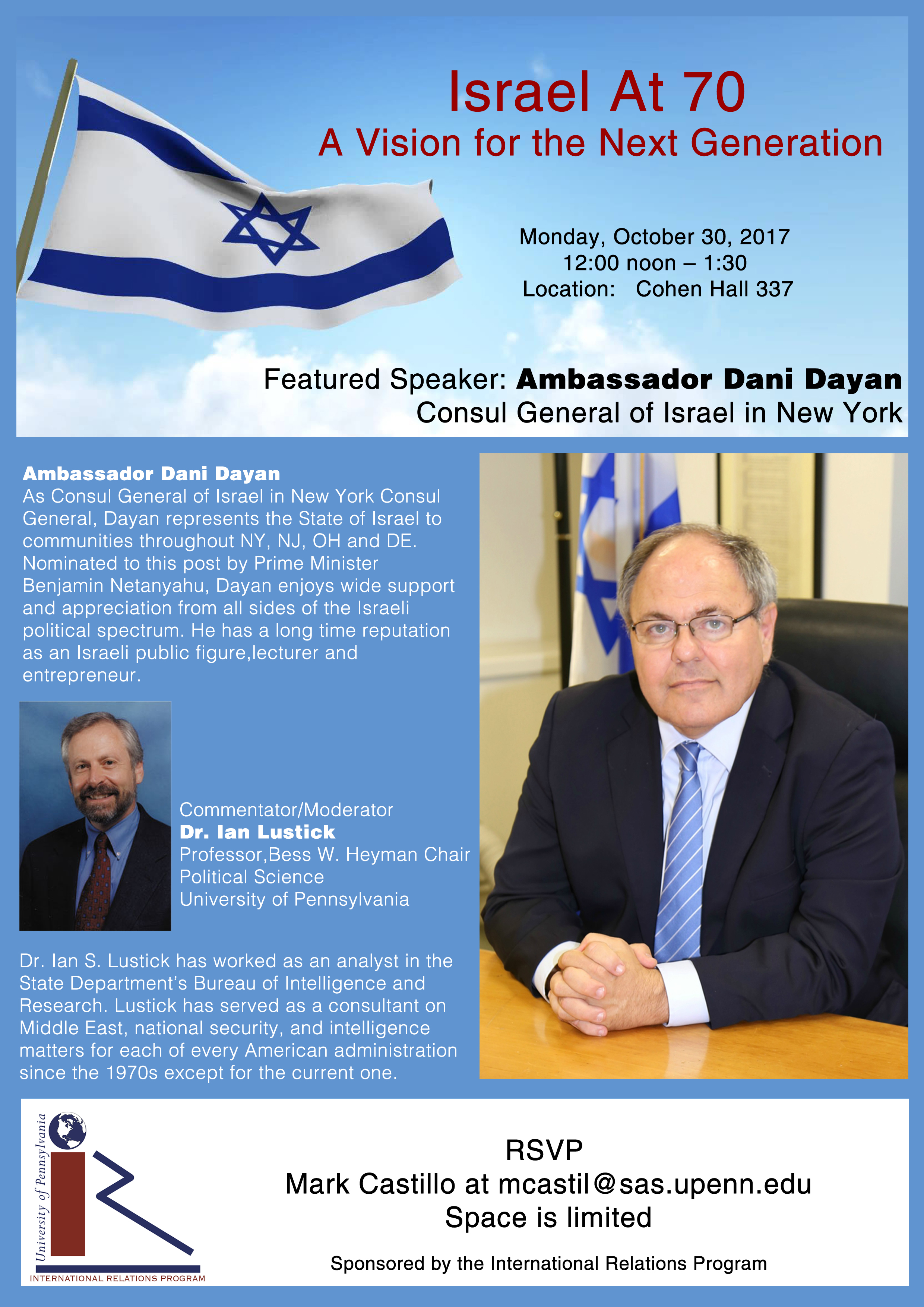 Monday, October 30, 2017 - 12:00pm
Claudia Cohen Hall 337
Come join the conversation with Ambassador Dani Dayan, Consel General of Israel in New York sponsored by the International Relations Program! 

Israel at 70 : A Vision for the Next Generation
Speaker: Ambassador Ambassador Dani Dayan, Consul General of Israel in New York
Commentator/Moderator: Dr. Ian Lustick, Professor and Bess W. Heyman Chair of Political Science, University of Pennsylvania

Monday, October 30, 2017
12:00 noon – 1:30
Location: Claudia Cohen Hall 337

RSVP to Mark Castillo at mcastil@sas.upenn.edu.

As Consul General of Israel in New York Consul General, Ambassador Dani Dayan represents the State of Israel to communities throughout New York, New Jersey, Ohio, and Delaware. Nominated to this post by Prime Minister Benjamin Netanyahu, Dayan enjoys wide support and appreciation from all sides of the Israeli political spectrum. He has a long time reputation as an Israeli public figure, lecturer and entrepreneur.
Dr. Ian S. Lustick is the Bess W. Heyman Chair in Political Science at the University of Pennsylvania.  Before moving to the University of Pennsylvania, Professor Lustick taught at Dartmouth College and worked as an analyst in the State Department's Bureau of Intelligence and Research.  The recipient of numerous fellowships and awards, he has served as a consultant on Middle East, national security, and intelligence matters for each of every American administration since the 1970s except for the current one.